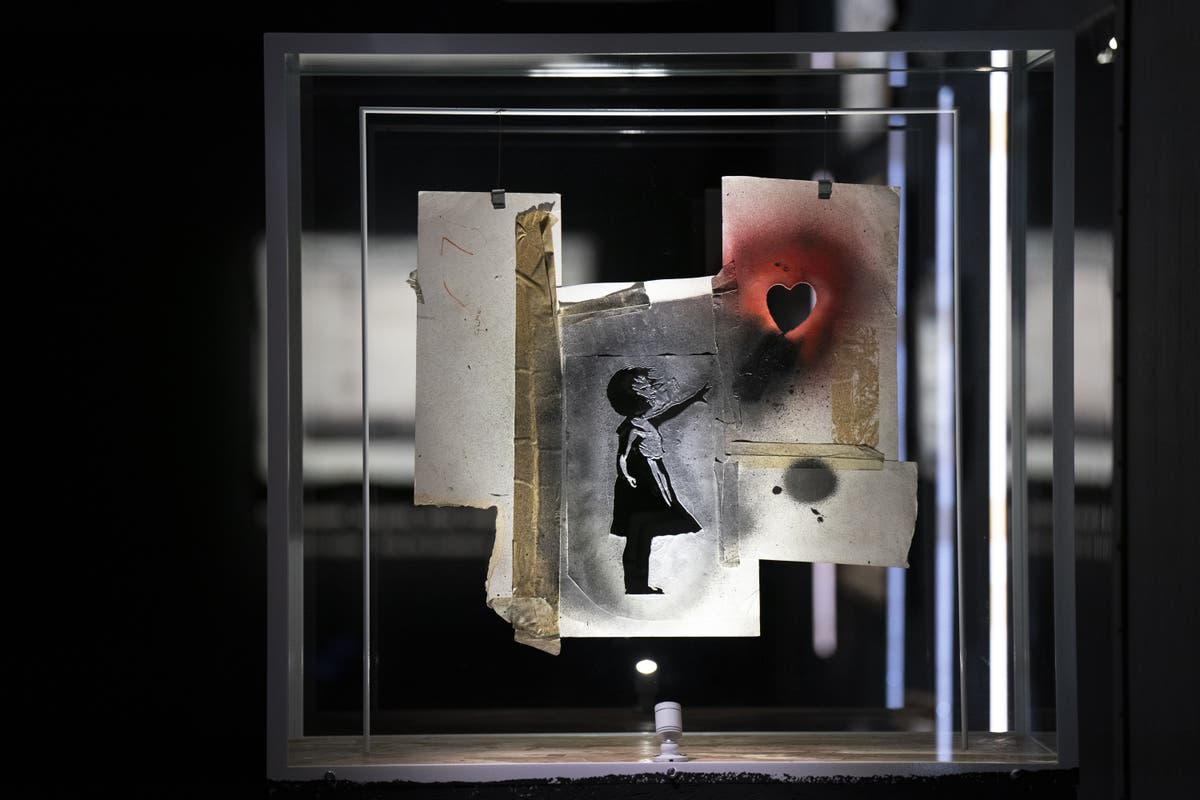 Banksy is seeking the help of the public to decide where he should next host his art exhibition Cut & Run.
In June, the exhibition, which showcases 25 years of stencil graffiti, opened in Glasgow's Gallery of Modern Art (GoMA).
The exhibition closes to the public on Monday August 28, following a 10-week run, and art enthusiasts and fans of Banksy can now put forward their suggestions for where the exhibition should open next.
The artist seems to be unsure where Cut & Run will open as the exhibition's official website, cutandrun.co.uk, claims that organisers "want to take this show on the road but have no idea where to go to next".
It also asks for those interested to mail their suggestions to venues@cutandrun.co.uk and include some photos, if possible, to illustrate the reasoning behind their choice.
The website says: "Mail us with your suggestions and include a few pics if possible.
"A specific location or venue would be ideal, please don't just write 'Come to Iran!'."
Discussing the exhibition in Glasgow, GoMA manager Gareth James said: "Cut and Run has welcomed a new and diverse audience, from primary school pupils to octogenarians, from all areas of society and corners of the globe.
"Every day we open our doors to queues of hundreds of people waiting for walk-up tickets.
"Free community tickets and overnight opening hours have extended the museum's reach far beyond our usual scope."
Speaking on the artists decision to ban the use of phones at the exhibition, James added: "We expected some resistance but in fact visitors embraced the no phones rule; enjoying the time and space to see the work unhindered."
Art pieces in the Cut and Run exhibition include the stencils for Girl With Balloon and Kissing Coppers.
There is also a model that explains how the artist managed to shred Girl With Balloon during an auction at Sotheby's in London in 2018.
The artwork hit the headlines when it partially self-destructed at the conclusion of an auction in which it had been sold for over £1m.
The canvas was passed through a secret shredder hidden inside the frame, which left the bottom half in tatters.
The artist renamed the work Love Is In The Bin and it sold at auction for £18.58m in 2021.
https://www.independent.co.uk/news/uk/banksy-glasgow-london-iran-b2399986.html Banksy seeks public's help to decide where he should host his art exhibition next