UK & World
Dominic Raab Commission Clash Reveals Real Whitehall Division in Afghanistan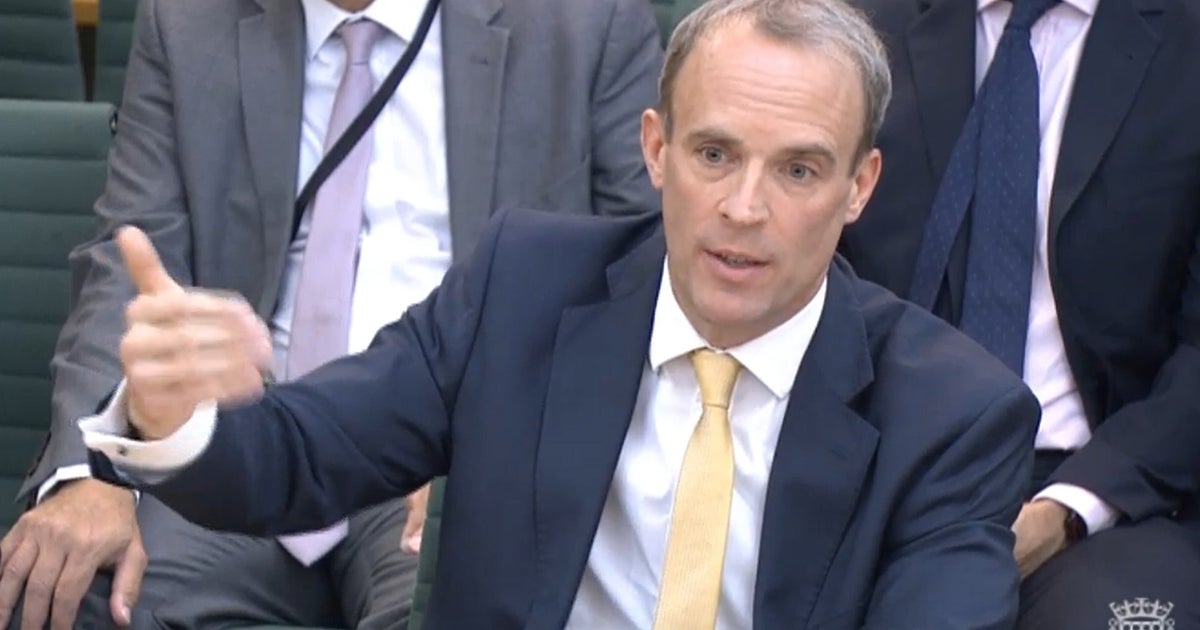 when Dominic Raab He came out of the Wilson Room nearly two hours in front of the Diplomatic Commission and heard him say the word "Pew."
It didn't sound like he was proud to appear unharmed. It reflects his pure relief that the grill is over. And he wasn't just baked, he was sautéed, burned, and kebabed. The Foreign Minister has never owned "Ah" to so many people.
Chairman Tom tugendhatA former Afghan veteran, often referred to as the future Foreign Minister himself, led the question. Tugendart initially emphasized that these are questions that represent "people" rather than "personal questions."
Nevertheless, Raab revealed that he felt he had been unfairly replaced due to the failure of the evacuation of Afghanistan in Britain. In fact, 110 minutes often felt like a passive-aggression session in a group, with little disguise between witnesses and his interrogators.
Raab, who is seen by some lawmakers as particularly annoying, remained calm in the first place. Asked why the French left the staff earlier than Britain, he politely said the analogy, "I don't think it's perfectly right."
He said that there were troops in South Korea and Cyprus decades after the first conflict, and he said the comparison with "gentle" peacekeeping missions was "unbalanced." In a good way, he dismissed Tugendart's claim that evacuation was the worst British foreign policy disaster since Suez ("I am suffering from Suez's analogy").
In "Tom v Dom", we saw a clipped question of a former military officer and a question of a lawyer of a former FCO lawyer. The first flash point came when Tugendat pointed out that the German counterpart in Raab had visited Afghanistan's neighboring country Uzbekistan to allow a safe exit route. Rab was frustrated and closed his eyes when he said, "The Germans took their people out first."
Many diplo one-up manships were on display, especially when Tugendhat deployed the acronym cannon. "When was the last time you updated your NEO?" He asked. "When was the last update ..?" Rab replied. "Non-combatant evacuation orders," said Tugendhat. "I would have to check it," Rab said.
More importantly, Tugendhat tried a classic committee that heard the ambush, citing from the internal FCO document he leaked. The July 22, "Major Risk Report," published before Raab went on his infamous Crete vacation, was a horrifying read. It warned that the "rapid progress of the Taliban" could lead to their "return to power, large-scale migration, and significant humanitarian needs."
When Rab asked for the source of such a disastrous prediction, Tugendart told Deadpan that it was his own division. The FCO then argued that this was a selective citation, as the document revealed that the Taliban agreed with the central assumption that it would not be in power for the rest of the year. However, in hearing, Raab seemed confused.
Behind the scenes these days, tensions between the Ministry of Defense and the Ministry of Foreign Affairs reappear, Tagendat has expressed many military concerns in the turmoil, and Raab continues to attempt to spread responsibility beyond his office. I did.
Foreign Ministers accused "military" information of not being able to predict the rapid collapse of the Afghan government, and made an important decision to withdraw FCO personnel from Kabul for four days (a move that significantly delayed the processing of evacuees). He added that it was based on a military assessment. Of staff safety.
On the thorny issue of vacation on Crete, Rab reiterated his claim that he would have previously returned to Britain with the "luxury" of "hindsight." In particular, the "Modern Foreign Minister" said he did something wrong because he was fully responsive to working from home and emphasized that he could attend the Cobra and evacuate directly from the hotel room on the beach. Realized that I didn't think.
He even provided the committee with a few free personality assessments. "My caricatures and criticisms are either I'm lazy and over-delegated, or I'm a control freak," he said. "The truth is that you need to exercise your grip, but you also have to be willing to delegate. Otherwise, you won't make a decision." It certainly stays at that Greek hotel. Sounded like another elaborate defense of.
Rab mysteriously refused to say when he first took a family break 11 times (his line about Kris Bryant) "Fishing expedition" Prompted a lot of jokes about the sea being closed). But even if it makes him look sly, it's not comparable to refusing to actually apologize to the British people left behind in Afghanistan and Afghan helpers (including British embassy guards). was.
When Neil Coyle asked if he was obliged to apologize to such people, Rab replied: "We are obliged to make every effort to get rid of what we did." The reply was grammatically meaningless, not to mention common sense (thanks to the fact that others weren't abandoned ??).
Rab also added that he also owes to those who are left obliged to "focus on the new reality of Afghanistan now", which is why he is traveling to the region. But perhaps the most fascinating part of the whole session was the focus on the old reality that the West lacked the country's own strategy.
Reiterating the "optimism bias" and "wishful thinking" of some in Whitehall, he is clear from Biden's long records and US elections that his administration will complete Trump's withdrawal plan. Correctly pointed out that there is. Needless to say, he actually referred to MoD's optimism bias for years.
His "one remorse" of the evidence session is more than 20 years "you can complete" after all the blood, sweat and tears, including people like Tugendhat ("people around this committee"). This work was that there was a "wish" to "believe that we could", but the mission lacked "clear military goals, means to achieve them, and a coherent exit strategy." rice field.
In what felt like a check of the reality of Tony Blair's liberal interventionism, he said there was "a much bigger problem about effectively building a country in such an unlivable climate." rice field. And in US public opinion elsewhere than in 2001, "it returns to the point of harmonizing purpose and means." The subtext seemed to be this: MoD is still confused about the interests in Afghanistan, the Foreign Ministry is not.
Rab added that people need to consider "how difficult it is emotionally, and how difficult it is to pull yourself out, if nothing else". British veterans of the Afghan War, Tugendat among them, may feel they corresponded to their emotional attachment to their mission and their patronage proposal that they were blinded by the people they tried to help. Maybe.
Rab is not the only one who considers Afghanistan's overall strategy and indicators of success to be flawed (The Washington Post exposure It's really amazing how the American public was misunderstood).
But if that is what he really thinks, public investigation into the decisions made is certainly the only answer. At the end of the hearing, Rab thanked the Commission "for your rigorous involvement." True rigor would mean more questions, like the broader questions he raised himself. Some real answers are also helpful.


Dominic Raab Commission Clash Reveals Real Whitehall Division in Afghanistan
Source link Dominic Raab Commission Clash Reveals Real Whitehall Division in Afghanistan