Health
GP must demand strong voice at COVID-19 hearing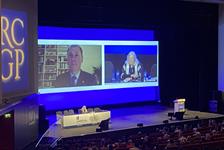 Professor Michael Kidd, Deputy Chief Medical Officer of Australia (former President of the Australian RCGP at the GP), gave the 11th John Hunt Lecture at the 2021 RCGP Annual Conference in Liverpool. The reaction was unusual, but it's quite surprising to say that it wasn't. "
At the meeting, Professor Kidd demonstrated that the team of general practitioners showed their dedication and insight to the community served by the profession through a pandemic, demonstrating that primary care is a "basic part of public health."
He urged GP leaders to continue working with the government to remind them of the essential contribution of the general practitioner workforce in responding to pandemics-and how many years this profession's contribution triggered COVID-19. and.
Hearing
At the meeting, Professor Kidd said GP leaders should "strongly insist on an investigation now" on how to deal with the pandemic and its potential medium- to long-term implications, and GP's voice was "involved" in politicians. You need to put pressure on them to be asked. " In these processes.
The UK's public inquiry into COVID-19 is unlikely to begin until April 2022, the government said. Delays accused by doctors' leaders who warned that long wait times are unfair It can reach out to bereaved families, demoralize medical professionals and encourage early retirement.
However, Professor Kidd said that these inquiries begin in the UK and around the world, so it is important for the GP to listen reliably and for professionals to learn lessons from experience elsewhere.
He set questions to consider when the country exits the pandemic-how general health care supports the most vulnerable patients, how to keep other patients safe while treating patients with COVID-19. How can we manage the impact of a pandemic on mental health in the face of intense workload pressures such as whether to continue to care for and how to maintain continuity of care?
COVID-19 prevention
He said it was imperative that GPs and clinic teams continue to receive the same level of protection as hospital staff as the country transitions from the worst of the pandemic.
Professor Kidd pointed out that once the majority of the population is vaccinated, most people infected with COVID-19 no longer need hospital treatment and are therefore "cared for by GP services."
He said it would be difficult to safely handle this additional workload while "ensuring the continuity of regular care" while at the same time addressing the burden of care that was overlooked during the pandemic.
Professor Kidd said the success of the UK vaccination program shows "the great value of a strong primary care system based on general practice" as more than 80% of the adult population is "double jab". Stated.
Vaccine deployment
But he has arrived new, who may miss important public health messages, especially those who have not yet been vaccinated, especially those who cannot go out to get the vaccine that may have been missed in the national expansion. Expressed concern to immigrants, homeless people, or crowded people Places that include prisons that may not have been vaccinated.
He said a high level of trust in general practice would be an important asset in spreading vaccination to these populations and communities, but the profession is "aging", especially when there are many doctors. He said he would need more resources to strengthen the "workforce to do". Postponed retirement through a pandemic that is likely to leave.
Despite these concerns, he said the pandemic revealed that "whatever happens in the future, the GP's role will continue."
He emphasized "exciting changes" during the pandemic-"the fusion of public health and medicine that we think we have never seen before", and the public's more public health and emergency response than before. Cited increased awareness-evidence that confidence in public health has never been higher.
GP must demand strong voice at COVID-19 hearing
Source link GP must demand strong voice at COVID-19 hearing