UK & World
The moment when the owner of the hero restaurant fights the knife man in the store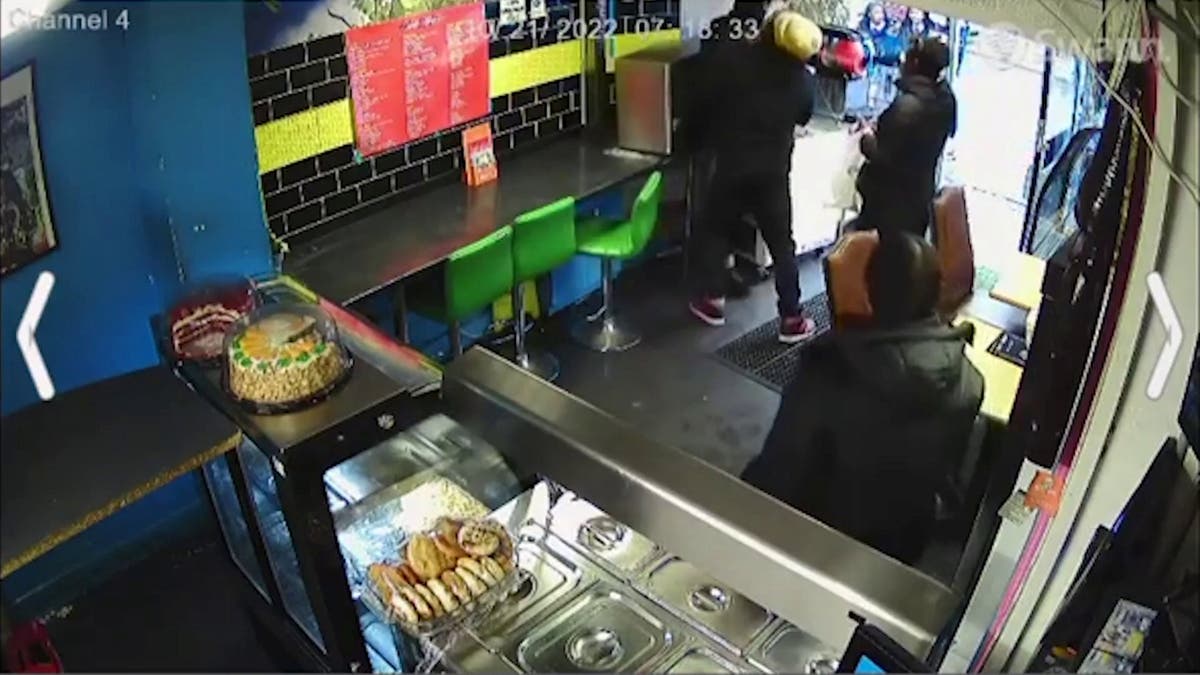 A year after his 14-year-old son was stabbed to death, CCTV shows the moment the restaurant owner wrestled with the knifeman inside the restaurant.
A man was threatening a girl at a Caribbean grocery store when restaurant owner Julius Cools stepped in to remove a machete-length knife.
Last November, a 16-year-old boy was arrested and charged in connection with the stabbing death of Mr. Cooles' son Jermaine near West Croydon station.
Jermaine, 14, was the youngest person to be stabbed to death on a London street in 2021. Thirty teenagers lost their lives that year, setting a grim record for teenage murders in the capital.
In CCTV footage on October 21, Mr. Cools can be seen grappling with his attacker. The two tumbled into a set of chairs and tables, Mr. Cooles pulled the blade away from the man and South ordered him out of his kitchen on Portland Road in Norwood.
Despite the shocking nature of the incident, police seemed uninterested in viewing CCTV footage, he said.
Describing how the incident unfolded, he said:
"I tried to pull them away.
"I don't know where the energy came from, but it just did. He may have stabbed me, I don't know."
A 47-year-old man was asked if he had seen a man before.
"It's a good job she's done, otherwise he could have attacked her in the street."
Cools said he confiscated the knife from the attacker, who had asked for it back.
In the video, he can be seen arguing behind the counter before giving up and walking away.
Mr Cooles said: [as my son] at my store. I was doing it to protect that girl. She was only 16 or 17 years old.
"We live in a world where once you leave home you don't know if you'll come home. This is the life we ​​live now."
"These young children don't care. They kill you and laugh about it. They don't care, there is no Lord in their hearts."
"All I want to say to people right now is be careful. Children and adults can be killed at any time, at any time.
"I'm not scared of them, I don't care. I haven't had any fear since I lost my son last year."
Jermaine Cooles was stabbed to death on London Road. Croydon November 18, 2021 following reports of fights between people. Despite the efforts of medical staff, the 14-year-old girl was pronounced dead.
A spokesperson for the Metropolitan Police said: 'Police were alerted to a report that a man with a knife had entered a restaurant on Portland Road, SE25, at around 4.20pm on Friday 21st October. did.
"Police were present, but the man had left the scene.
"A store resident was spoken to and was not injured. He did not want the police to get involved, but said the incident was caught on CCTV.
"CCTV of the incident was seen, but the man could not be identified.
"The investigation is closed at this time, but any further information will be evaluated and investigated accordingly."
https://www.independent.co.uk/news/uk/crime/restaurant-owner-knifeman-attack-london-south-norwood-b2230424.html The moment when the owner of the hero restaurant fights the knife man in the store