UK & World
An angry driver dragged a Just Stop Oil protester off the road as 45 activists were arrested.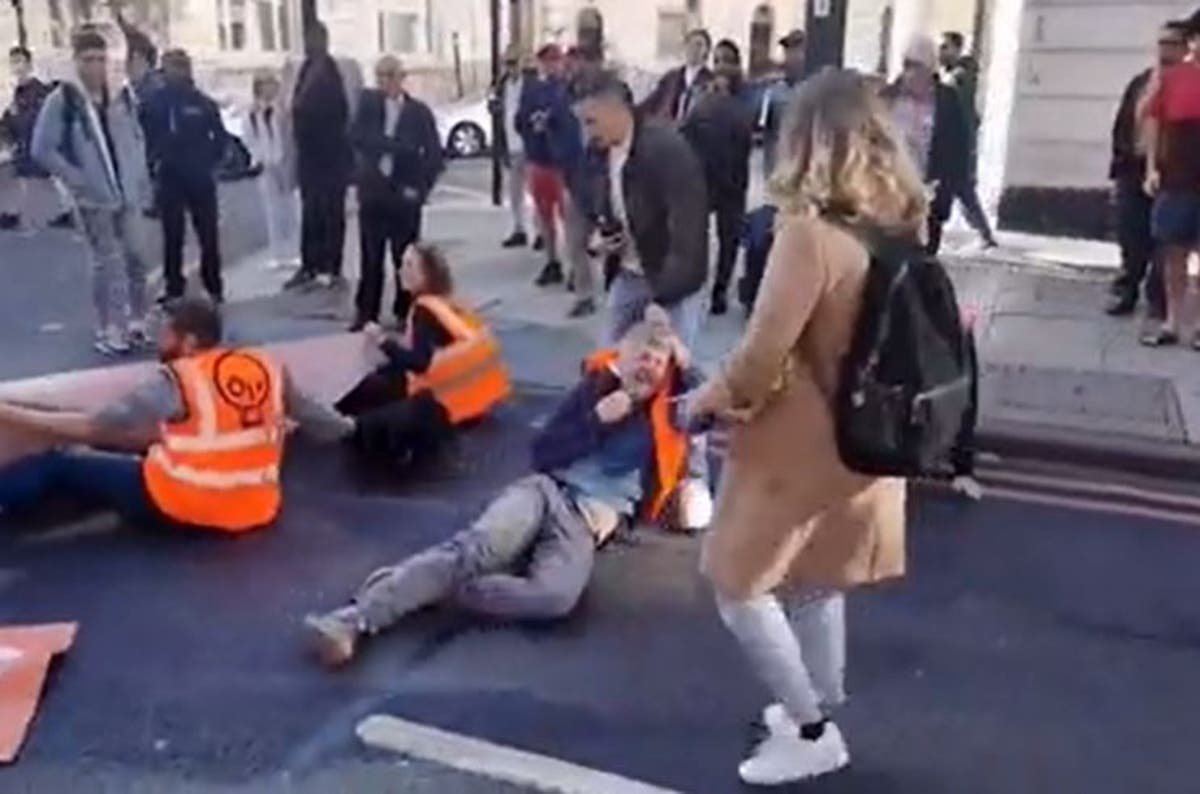 An irate driver was filmed dragging a climate change activist off the road during Just Stop Oil's recent protests in the capital.
London Metropolitan Police on Sunday arrested 45 people as Just Stop Oil campaigners blocked roads in London to demand government action on the environmental crisis.
In Westminster, drivers were seen dragging protesters off the road near the Houses of Parliament, as one said, 'I have to go to the hospital… stop disturbing us.' confronted the group.
An activist was also filmed climbing onto and gluing his hand to a police van at Sunday's protest.
A spokesman for the Metropolitan Police said: "To date, a total of 45 people have been arrested for intentionally obstructing a motorway in connection with the Just Stop Oil protests in Piccadilly.
"They were detained."
Sunday marked the ninth day in a row of protests as members of Just Stop Oil called for an end to the use of oil and gas. Protesters say they will continue to disrupt the roads every day in October until fossil fuel use is addressed.
Just Stop Oil protesters climb on top of London police van
Activists on top of police vans brandished banners and shouted about the cause to passersby. he cried. sad… where is the anger? "
One protester on Saturday required medical care after being pulled from the road by a driver, the group said.
Just Stop Oil said in a statement: Today marks the ninth day of the occupation of Westminster. Massive disruption has been caused across the borough, including repeated blockades of multiple bridges and major His A roads.
"Yesterday, a group of Just Stop Oil supporters maintained a resolute non-violence in the face of a understandably disgruntled public.
"One supporter needed urgent medical attention after being forced off the road by a civilian.
"This chaos will end when the government issues a statement suspending all future licenses and consents for fossil fuel exploration, development and production in the UK."
Climate change protests have been going on in London since last Saturday, with activists blocking areas such as the Waterloo Bridge, Trafalgar Square and Westminster.
Animal Rebellion, an offshoot of Extinction Rebellion, put most of London on lockdown yesterday. They also painted shop windows and emptied the red paint of several stores they said supported killing animals, including a shooting supply store.
https://www.independent.co.uk/climate-change/news/just-stop-oil-protest-dragged-london-road-b2198970.html An angry driver dragged a Just Stop Oil protester off the road as 45 activists were arrested.