UK & World
Class acts: how London's likely lads are upstaging the posh boys on screen | Movies
Young, privately educated British actors seemed to be cornering all the available parts a decade or so ago. And they were regularly criticised for 'slumming it' if they put on a 'lower class' accent to play a role.
Now the backlash, it seems, has arrived. A string of talented actors from more ordinary London backgrounds are leading the pack this summer, scooping up plaudits and leading roles. If you haven't already clocked either Leo Woodall, Toheeb Jimoh or Harris Dickinson, each in their late 20s, then you haven't been watching much. Unless, that is, you have been fooled by their extraordinary chameleon-like abilities.
Dickinson, 27, for instance, recently played not only the callow fashion model at the centre of the award-winning satirical film, The Triangle of Sadness, but also the debonair Richard Attenborough in the starry 1950s whodunnit See How They Run. Later this year he is to appear on television again alongside Clive Owen and The Crown's Emma Corrin in another mystery-oriented story, A Murder at the End of the World.
Before that, though, Dickinson will be up on the big screen in Scrapper, a film that has already won acclaim at the 2023 Sundance film festival, where it was awarded the grand jury prize for world cinema. Set in the outskirts of London, writer-director Charlotte Regan's debut feature tells the story of a young girl fending for herself since the death of her mother. Her life, built on fooling social workers and stealing bikes, is upset by the arrival of a stranger, played by Dickinson, who says he is her father.
The capital is also the setting for the highly anticipated new film from Oscar-winning British director Steve McQueen – set amid the bombs of the second world war. Blitz has a cast that includes Dickinson, Saoirse Ronan, Stephen Graham and Kathy Burke as well as a debut screen performance from singer-songwriter Paul Weller.
Born in Leytonstone, east London, Dickinson dropped out of school at 17 and nearly signed up for the Royal Marines. Instead, he turned to the theatre, studying at London's RAW Academy and soon appearing on the stage of the National Theatre in Pauline McLynn's 2014 play Angels. Further acclaim came three years later with the film Beach Rats. His portrayal of a troubled young man in Brooklyn won him praise in the Times for a flawless mastery of an American accent.
Dickinson's star has risen particularly rapidly since his 2018 role as John Paul Getty III in the TV series Trust, directed by Danny Boyle among others. And those filmgoers who deliberately avoided the jokey violence of the Kingsman prequel, The King's Man, and so missed Dickinson there, may still have spotted him in Joanna Hogg's 2021 film The Souvenir: Part II. He also played the unreliable love interest in the popular film of Delia Owens' novel Where the Crawdads Sing and has just been hired to play alongside Zac Efron in The Iron Claw, based on the true story of the Von Erich wrestling dynasty.
In contrast, Toheeb Jimoh, who is so far best known for his charismatic television performance as Sam Obisanya in the hit sports comedy Ted Lasso, has used his early fame to test himself on the stage. This year the 26-year-old appeared as Romeo in a production of Shakespeare's tragedy at the Almeida. "Toheeb Jimoh Shines", announced the headline of the review in the New York Times.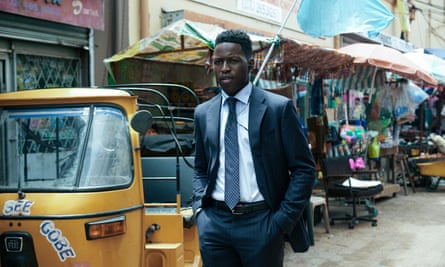 But television viewers may well have noticed the actor in the role of Nigerian journalist Tunde in the Amazon supernatural thriller series The Power, based on Naomi Alderman's bestseller. It portrayed a world in which women wield a new electrical force, with Jimoh playing the main male role, alongside Toni Collette and Auli'i Cravalho.
Born in Britain, Jimoh lived in Nigeria for six years as a boy before his family moved back to Brixton in south London. Although he enjoyed acting at secondary school, he was also good academically and was made head boy until, that is, he was caught selling sweets in the playground. He won a place at London's Guildhall School of Music & Drama and only on arrival realised quite how slim his chances of acceptance had been. "You know, 3,000, 4,000 kids apply to drama school for 26 places," Jimoh has said. "And I was dumb enough to think that I could be one of them." Back then, he told the Observer, many drama schools accepted very few dark-skinned black students.
After graduating in 2018 Jimoh was cast as the lead in Anthony, a BBC drama that imagined the life the victim of a fatal racist attack might have lived, had he survived. Acclaim for his portrayal led to a role in the Amazon TV series The Feed before he joined the cast of a Sheffield Crucible production of A Midsummer Night's Dream.
But it was the part of Sam in Ted Lasso that has given Jimoh his international profile. The character was originally conceived as Ghanaian, but was changed to suit the actor's background. Jimoh soon became crucial to the tone of the show and his co-star Brett Goldstein has compared working with the young Brit to how cast members of the hospital drama ER must have felt appearing with a future star like George Clooney.
More work in America is clearly on the cards for the actor, who also had a small part in Wes Anderson's 2021 film The French Dispatch, although there is no news yet of the next season of The Power, largely due to the Hollywood actors' and writers' strikes.
Jimoh does have a London project on the backburner, however. Since drama school he has worked on a script for a partly autobiographical play called, appropriately enough, Chameleon Boy, about a young man with African roots who has to find a way to fit into London life.
Leo Woodall, unlike these other London lads, comes from a family of actors. His parents met at drama school and his stepfather and grandmother are also in the business. The 26-year-old from Hammersmith disturbed and delighted television audiences earlier this year in the deceitful role of Jack in season two of the hit show White Lotus.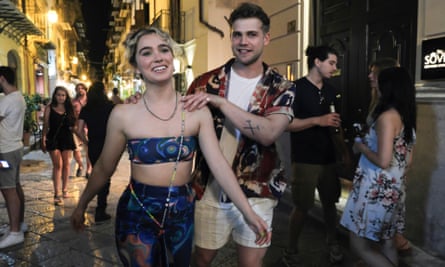 "I knew that Jack was a fun-loving, dangerous, naughty Essex boy," he has said about his efforts to win the role that has changed his career. "So before I shot my audition tape for it, I watched some Joey Essex videos, put some sunglasses on my head, made a fake cocktail in a fancy glass, and went to town with it."
But Woodall will soon be playing a romantic English hero in the film One Day – the latest adaptation of David Nicholls' tragi-comic novel. Woodall has been cast as Dexter Mayhew, the boyfriend of Emma Morley, played by Ambika Mod. Their love story is set on successive days picked out over 20 years of an off-and-on relationship. Filming in London and Edinburgh began last summer but there is no date yet for the Netflix release.
Woodall, who had an early screen role alongside Tom Holland in Apple+ TV's Cherry, was named a "star of tomorrow" by the industry journal Screen International in 2023, but initially hoped to go into sports. At 19, after watching Peaky Blinders, he instead decided to stick with family tradition and try acting, graduating from London's Arts Educational school four years ago.
In addition to One Day, the actor can be seen in the Amazon spy drama, Citadel, and has the lead role in Taron Lexton's new film Nomad. Shot across seven continents, Lexton's drama tells the story of a loner with a strange condition that draws him repeatedly to the ends of the earth. The unusual project has been shot entirely on location in 26 countries. The leading actors have travelled light, with a technical crew of eight, filming with Imax cameras, with no green screen, no sets and no cinema lighting.
Whether or not the film becomes a critical hit, it has certainly shown the young Londoner a large proportion of the rest of the world.
https://www.theguardian.com/film/2023/aug/13/class-acts-how-londons-likely-lads-are-upstaging-the-posh-boys-on-screen Class acts: how London's likely lads are upstaging the posh boys on screen | Movies