UK & World
Jake Dennis crowned Formula E world champion after chaotic London race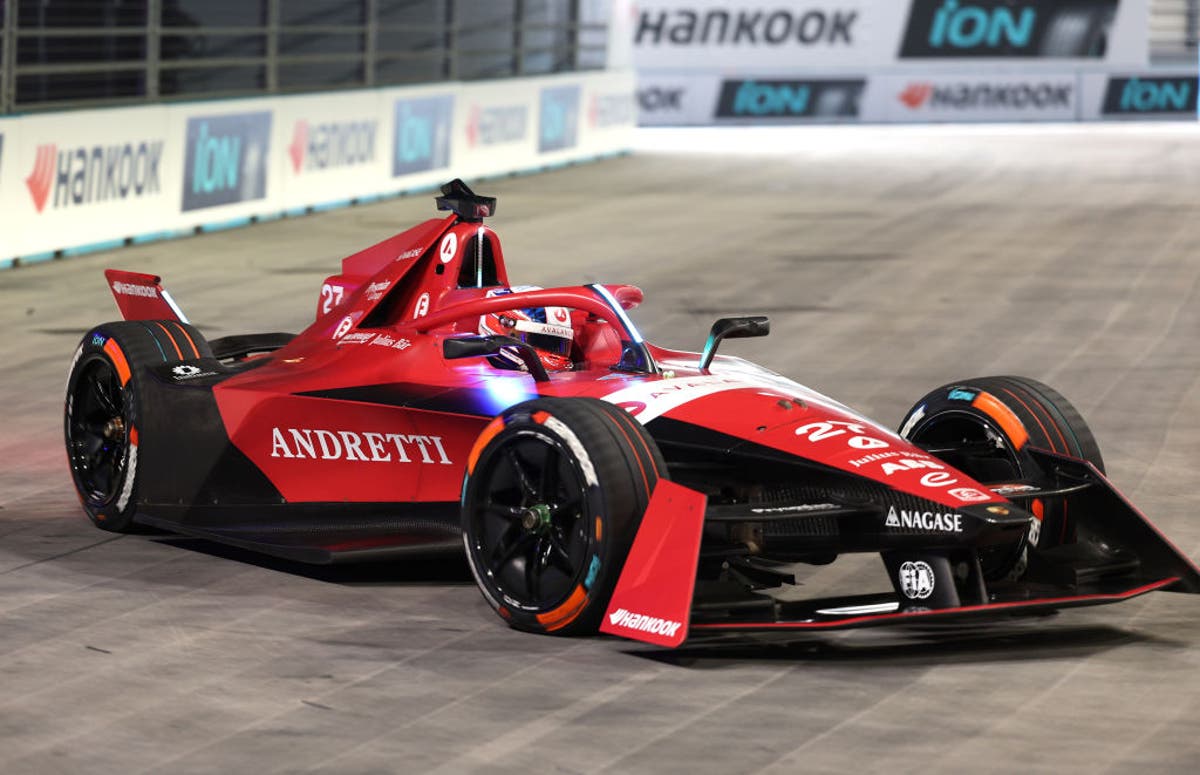 The first-ever British winner of the Formula E world championship has been crowned, with Jake Dennis claiming a second-place finish in the London E-Prix to take an unassailable lead in the driver standings.
A series of crashes and red flags late in the race at the ExCel meant an improbably chaotic ending, with Avalanche Andretti driver Dennis a major beneficiary. His podium finish – a seventh in the last eight races – leaves him clear of rivals Mitch Evans and Nick Cassidy to take the season nine crown.
The drama was only added to by the fact Envision's Cassidy had pole position and could have halved Dennis' lead ahead of the finale on Sunday – before an apparent mix-up in communications saw him taken out of the race by his own teammate Seb Buemi.
Saturday's race was won by Evans, driving for TAG Heuer Porsche, but the real celebrations began in the Andretti garage as the front pair saw the chequered flag.
It looked, for a while, as though matters could pan out very differently though. Dennis was beaten in the qualifying duels semis but started second on the grid anyway due to a penalty from Rome handed to Evans – only for the Brit to lose places early on and miss two attempts at taking Attack Mode.
Envision, going for the team championship as well as the driver championship through Cassidy, looked in a perfect position with a one-two at the front after Buemi dislodged Dennis – but the Swiss driver clipped teammate Cassidy and ultimately left him out of the race, both in terms of London's first day and the title itself.
Later crashes saw red flags emerge twice, which allowed Dennis to regain two vital places and move into third which would have guaranteed him the title – before he was handed second to absolutely secure matters after Antonio Felix Da Costa was handed a time penalty.
An ecstatic Dennis said: "I am lost for words. It means so much to me and the boys out there. That had everything thrown at us, it felt like everyone was against us today but we have just become world champion and I am so happy for me and the team, we deserve this so much.
"I only joined this championship three years ago and nearly won it in my rookie year, so to come back and have the year that we have had, break all the podium records, become world champion is just mind blowing. I really didn't think it coming into this year. So much credit to my boys, they have given me a rocket ship all year and this is the least I could do for them."
Race winner Evans said: "It's hard to know where to start but I want to congratulate Jake on the world championship.
"We came here to fight for the championship to the second day, we did all we could but it wasn't enough and my mistake in Rome hurts even more now.
"I was able to keep my composure and get the job done after the stoppages; for tomorrow it's now more about a team championship fight."
On Envision's moment of mismanagement, Buemi said: "We played it very well at the beginning, then unfortunately we had that contact. Happy to salvage a few points but today could have been a much better day.
"No [I wasn't told to move over], and I was ready to do so at any point. But I wasn't told anything – we need to review and improve tomorrow."
The team championship will be decided on the final day, with Envision leading ahead of Jaguar, Porsche and Andretti.
https://www.independent.co.uk/sport/formula-e/jake-dennis-formula-e-champion-london-eprix-b2384292.html Jake Dennis crowned Formula E world champion after chaotic London race