UK & World
Nadine Dorries resigns as MP with attack on Rishi Sunak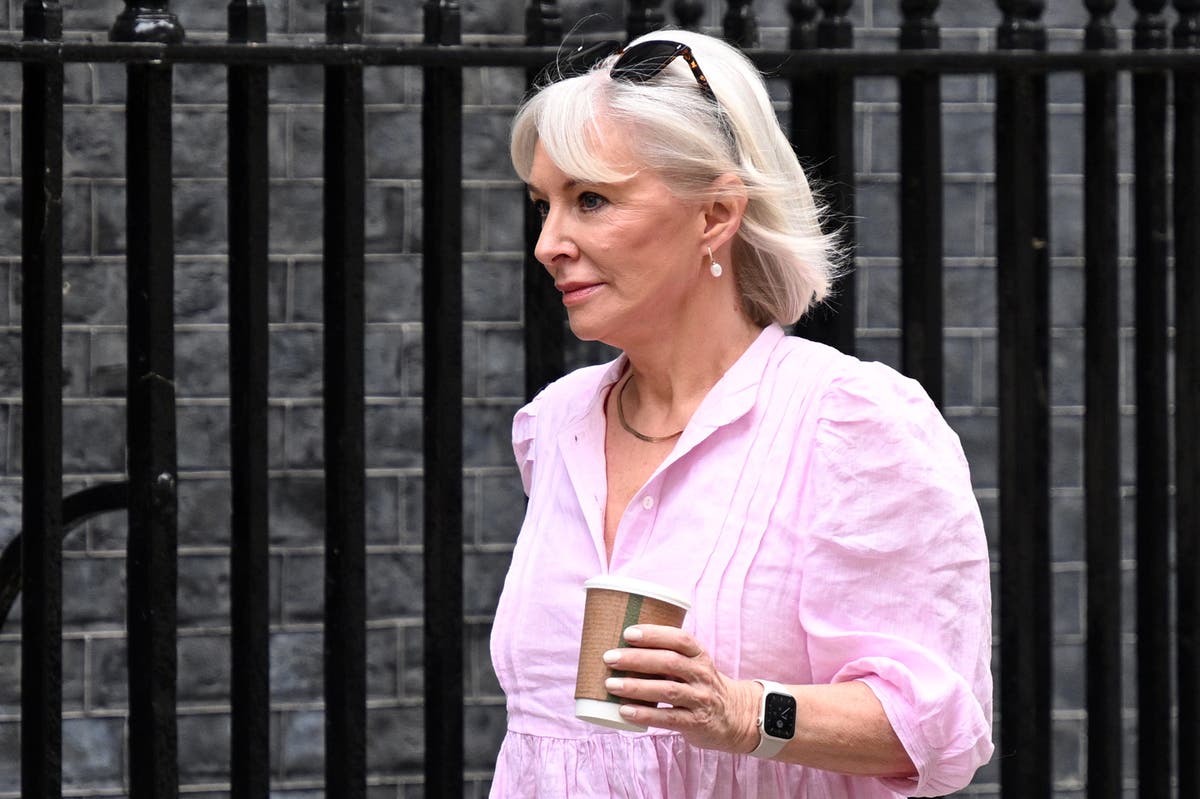 The former culture secretary Nadine Dorries has finally resigned as an MP – more than 10 weeks after announcing her intention to quit – with a scathing attack on Rishi Sunak.
In her resignation letter, the staunch Boris Johnson ally accused the prime minister of "demeaning his office by opening the gates to whip up a public frenzy" against her.
The Conservative MP has faced intense pressure to formally resign, having previously insisted she would stay on until Mr Sunak's government revealed documents on the decision to deny her a peerage in Mr Johnson's honours list.
Her resignation will give Mr Sunak another headache, triggering a by-election in Mid Bedfordshire which could be held as soon as September, hot on the heels of painful losses for the Tories in Yorkshire and Somerset, despite managing to cling to Mr Johnson's former seat in Uxbridge.
Her resignation letter, published in the Daily Mail and running to more than 1,750 words, comes a day after the Liberal Democrats vowed to table a "Dosser Dorries" bill as soon as parliament returned to suspend her as an MP.
In a blistering attack, sent 78 days after she first vowed to resign, she wrote to the PM: "Since you took office a year ago, the country is run by a zombie Parliament where nothing meaningful has happened. What exactly has been done or have you achieved?"
Taking aim at the circumstances of Mr Sunak's hurried entry to No 10 following the collapse of Liz Truss's brief premiership, months after losing to her in the Tory leadership contest, Ms Dorries said: "You hold the office of Prime Minister unelected, without a single vote, not even from your own MPs.
"You have no mandate from the people and the government is adrift. You have squandered the goodwill of the nation, for what?"
She added: "I know personally how effective a strong and helping hand can be to lift someone out of poverty and how vision, hope and opportunity can change lives. You have abandoned the fundamental principles of Conservatism. History will not judge you kindly."
Ms Dorries, who was first elected in 2005, insisted this week that she was still "working daily" for her constituents, despite having not spoken in the Commons for over a year or voting since April – after senior Tory MP Caroline Nokes accused her of "making a mockery" of her seat by refusing to resign.
Ms Dorries has been presenting a show on TalkTV since February, writes a column for the Daily Mail, and recently declared a £20,500 advance from publisher HarperCollins for an upcoming book about Mr Johnson's "political assassination".
Rishi Sunak suggests Nadine Dorries to quit parliament
By remaining as an MP over the summer, Ms Dorries will have earned at least two months' worth of her £86,000 salary, amounting to more than £14,000 before tax.
In her letter, Ms Dorries accused Mr Sunak of "demeaning his office by opening the gates to whip up a public frenzy against" her.
She said that the police have contacted her in recent weeks about threats made to her.
She also accused Mr Sunak of ignoring tech CEOs when he was chancellor, saying: "You flashed your gleaming smile in your Prada shoes and Saville Row suit from behind a camera, but you weren't listening."
In another personal jibe, Ms Dorries said that Mr Sunak had put his "personal ambition above the stability of the country and our economy".
She continued: "Bewildered, we look in vain for the grand political vision for the people of this great country to hold on to, that would make all this disruption and subsequent inertia worthwhile, and we find absolutely nothing."
The outgoing MP claimed to have first advised cabinet secretary Simon Case of her intention to resign in July 2022, but that close allies of Mr Sunak's "have continued to this day to implore me to wait until the next general election rather than inflict yet another damaging by-election on the party".
At the same time, Ms Dorries claims to have realised during "investigations" for her "disturbing" new book that "remaining as a back bencher was incompatible with publishing a book which exposes how the democratic process at the heart of our party has been corrupted".
"As I uncovered this alarming situation I knew, such were the forces ranged against me, that I was grateful to retain my parliamentary privilege until today," Ms Dorries wrote.
Listing all of the ways in which she believes Mr Sunak has failed in No 10, Ms Dorries accused him of "abandoning" policies such as levelling up, having "completely failed" in reducing cross-Channel immigration and delivering Brexit benefits, and being responsible for the City's loss in status as a financial hub, among many other accusations.
https://www.independent.co.uk/news/uk/politics/nadine-dorries-ap-boris-johnson-parliament-house-of-commons-b2399982.html Nadine Dorries resigns as MP with attack on Rishi Sunak